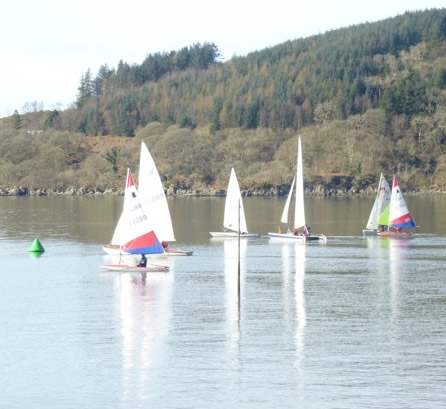 After the hard work the previous day, many of the same members, joined by several others, opened the 2017 sailing season with the Icebreaker races.
Race 1 was a leisurely affair in very light wind that saw Stewart Biggar ghost his way to an easy win in his Laser, followed by the Flying Fifteen of Peter Hammond and his crew John Sproat. Third on the water was Chris Nurney and his young crew, Bruce Copeman in the Dart catamaran. Then came the Toppers of Douglas Copeman and Lilli Bell Leyshon not far apart at the finish, followed home by Stevie Gaston and Josh McDougall in the Club Feva. After handicap corrections, Douglas was very close to a good second place while Chris and Bruce were demoted to 6th.
Between races a lovely Spring sea breeze had sprung, changing conditions dramatically. In the minutes just before the start of Race 2 Chris Nurney lost control of the big catamaran, pitching him and Bruce into the sea for the first capsize of 2017. This left the Flying Fifteen of Peter & John to set off in the lead, now chased by the much harder-working Stewart. With the Safety Boat crew of Julian Stanning and Duncan Gillespie having their work cut out to help recover the capsized catamaran, and the fleet working its way round the extended course, poor young Bruce was getting cold, forcing the safety boat to break off and get him ashore and warmed up. It took almost the whole race before the cat was upright again and, apparently too busy watching the recovery, the FF15 of Peter and John handed the lead to the crafty Stewart, just in time for Stewart to claim his second victory of the day.