Please contact James Wilson on 01556630436 to view.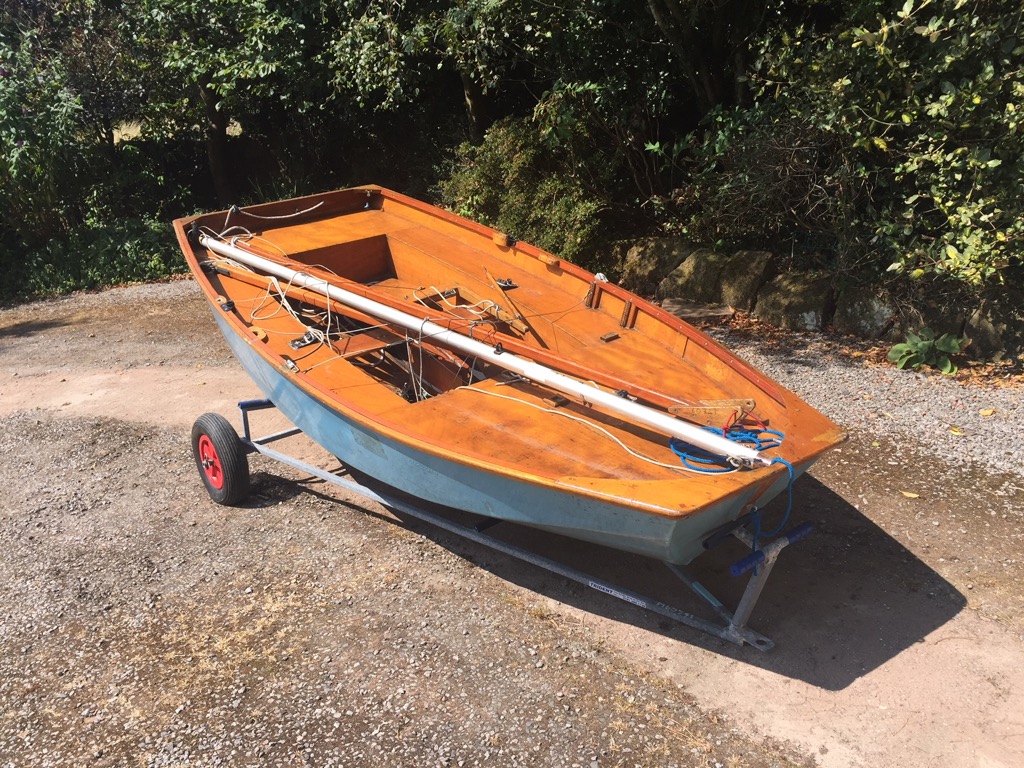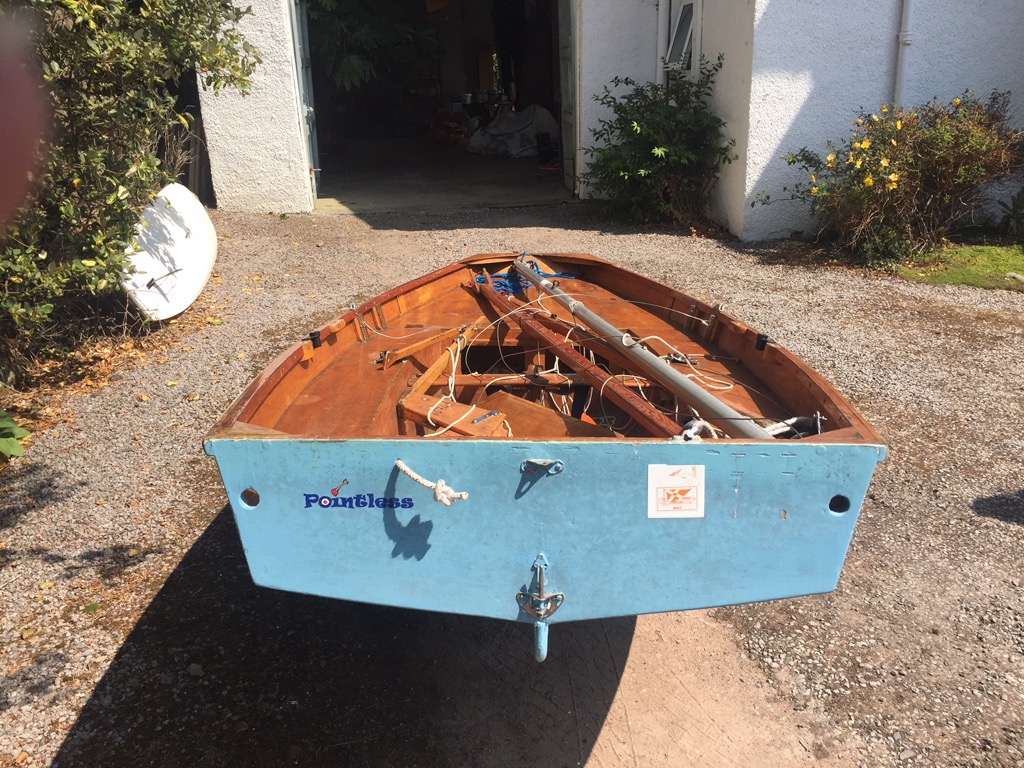 ---
RS Quba that we have for sale on the Solway Yacht Club website. It is very lightly used and comes with road trailer, cover, launching trolley , gib and main sail. It is complete and ready to go. The boat is about 5 years old and has been used less than 24hours. My kids are not really interested in sailing hence the reason the sell it. We also have a Laser 2000 sail number 22041 which again has hardly been used and comes complete with road trailer, cover, launching trolley etc. Both boats have been garaged stored.. We would like £1500 for the Quba and £3,250 for the Laser.
Robin Porter +44 7851 630687
This email address is being protected from spambots. You need JavaScript enabled to view it.
---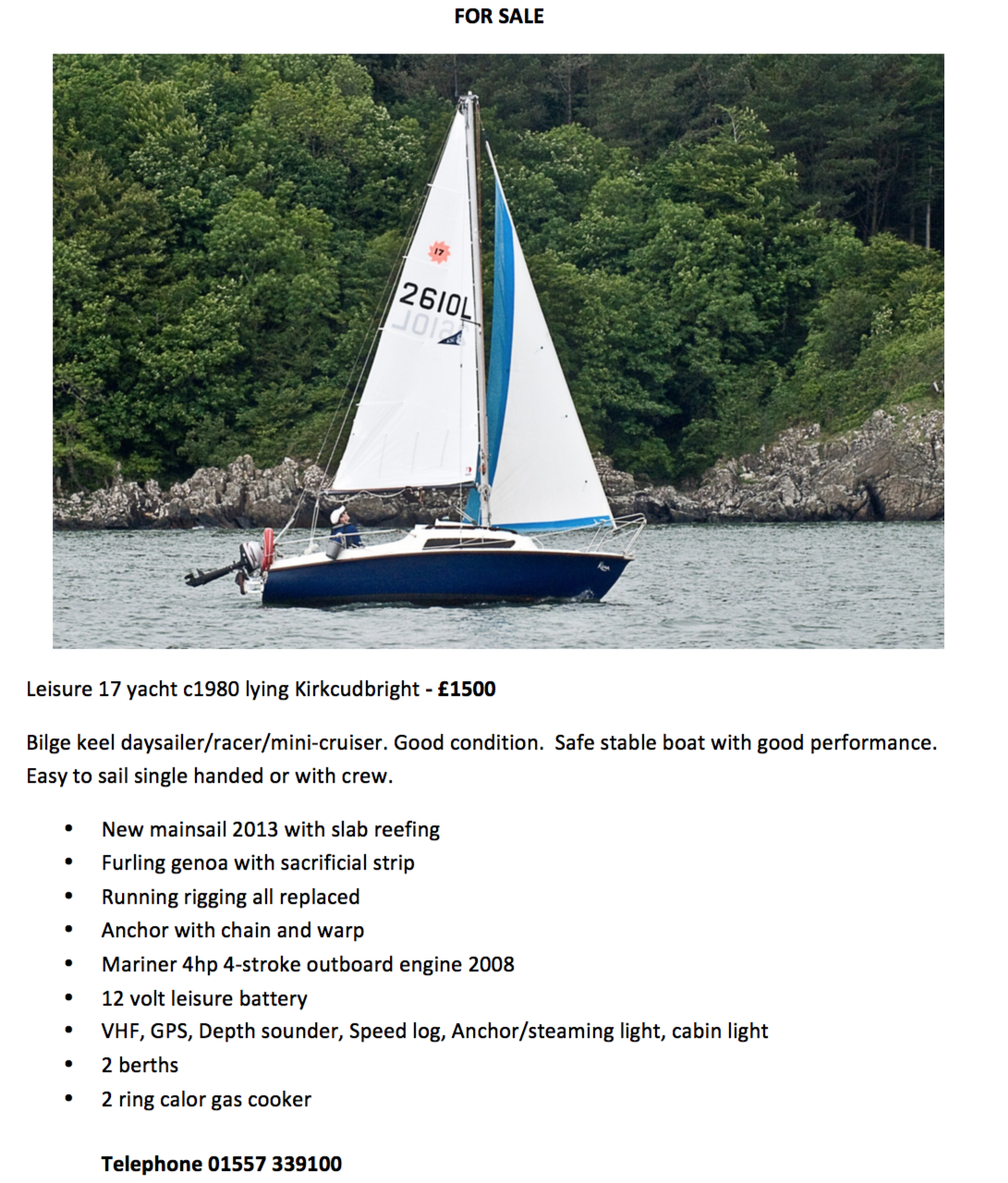 ---
Flying 15 extravaganza ( sale)
Proctor Epsilon mast ( unrigged) - £ 160
Tactic Mini Compass - £ 100
2011 Goacher Main and Genoa ( good condition) - £ 100
Winder balanced Rudder - £100
Selection of Goacher, P&B Spinnakers - £ 50
Brass Tiller block- £ 35
Selection of red mainsheet, jib and spinnaker tapered sheets - £35
Toe straps ( red) - £10
Tow Rope ( could pull the Queen Mary2) - £10
Boom – 1970 vintage ( gold) – Free
Available from Easter weekend:
Colin Filer ( 07881475476)
---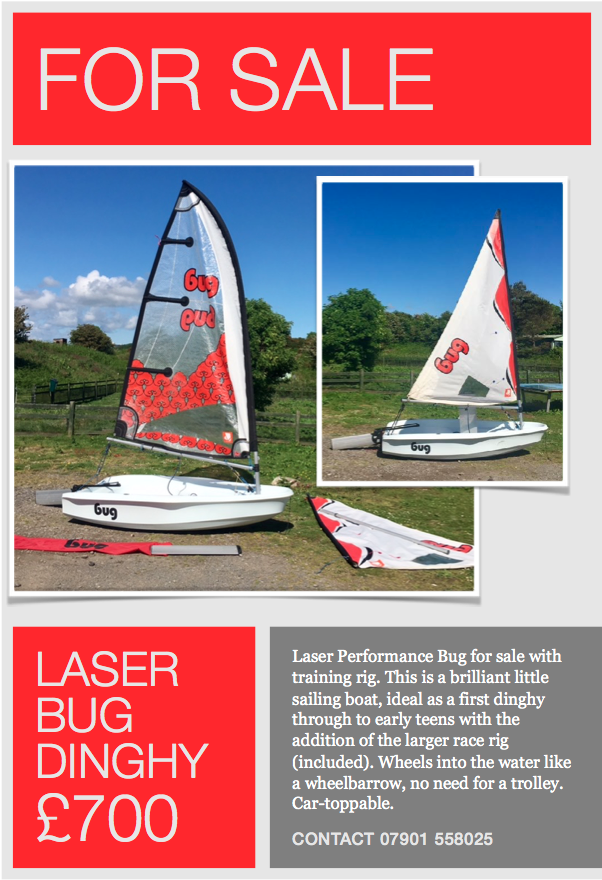 ---
---
Contender 530 For sale
Great Boat to get into the class. Still competitive!!!. Stored dry and very little use.
Details:
Clean hull
2 sails - 1 ok-good 1 training, In process of attaining a new sail through insurance so this will be included once it comes through as no use to me.
2 tillers - 1 carbon
Trolley and combi road trailor new bearings etc.
Top Cover
Foils in good condition
Please ask for more pictures as have lots and looks great
Boat will be in Kippford until the week after Kippford.

Overall in great condition for age, always gets comments, odd mark and small bow repair. Boat is being sailed Kippford week.

£950
Contact Matt 07772454782
This email address is being protected from spambots. You need JavaScript enabled to view it.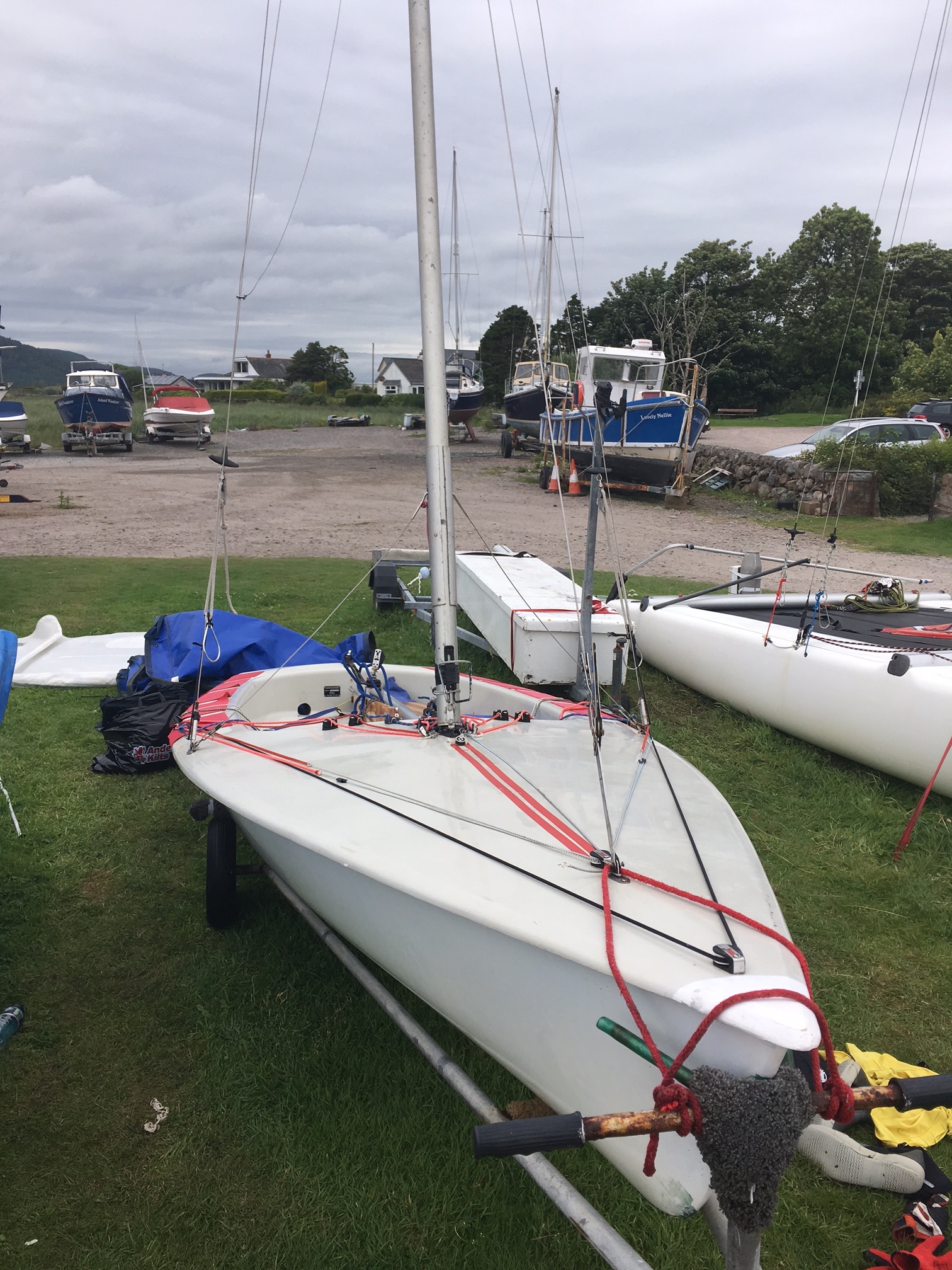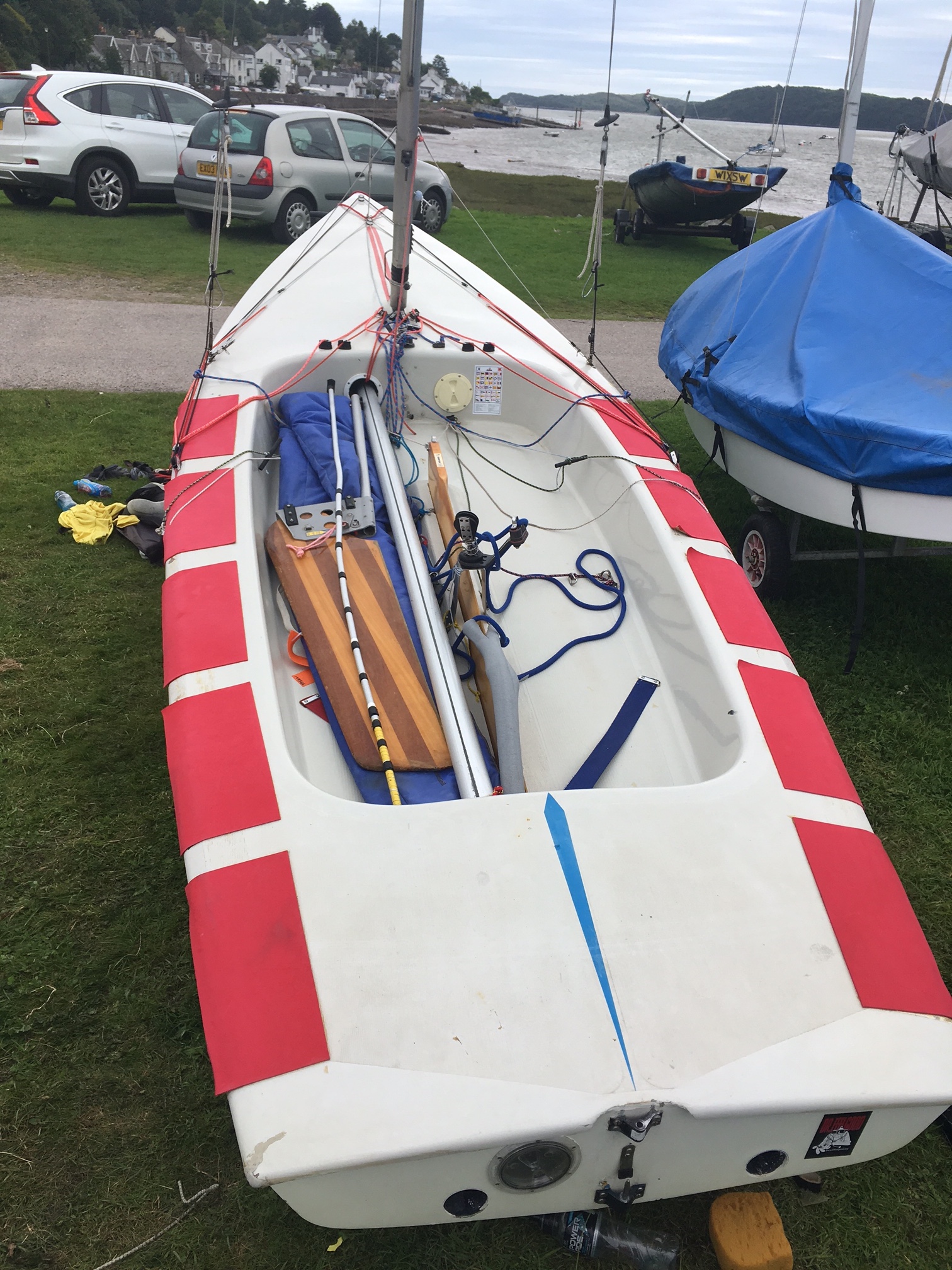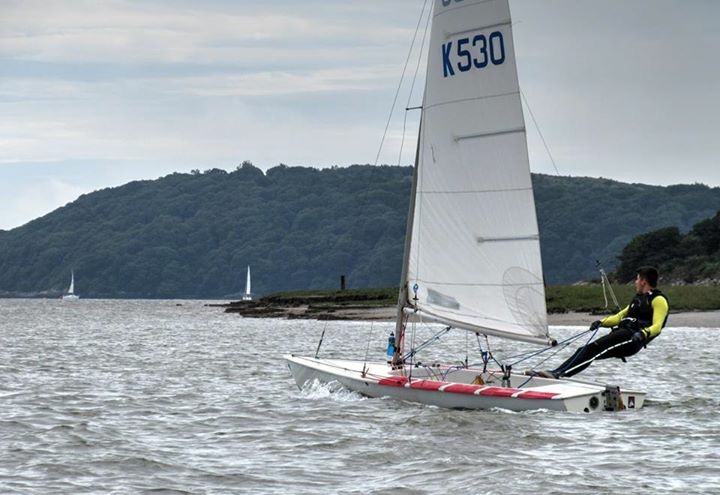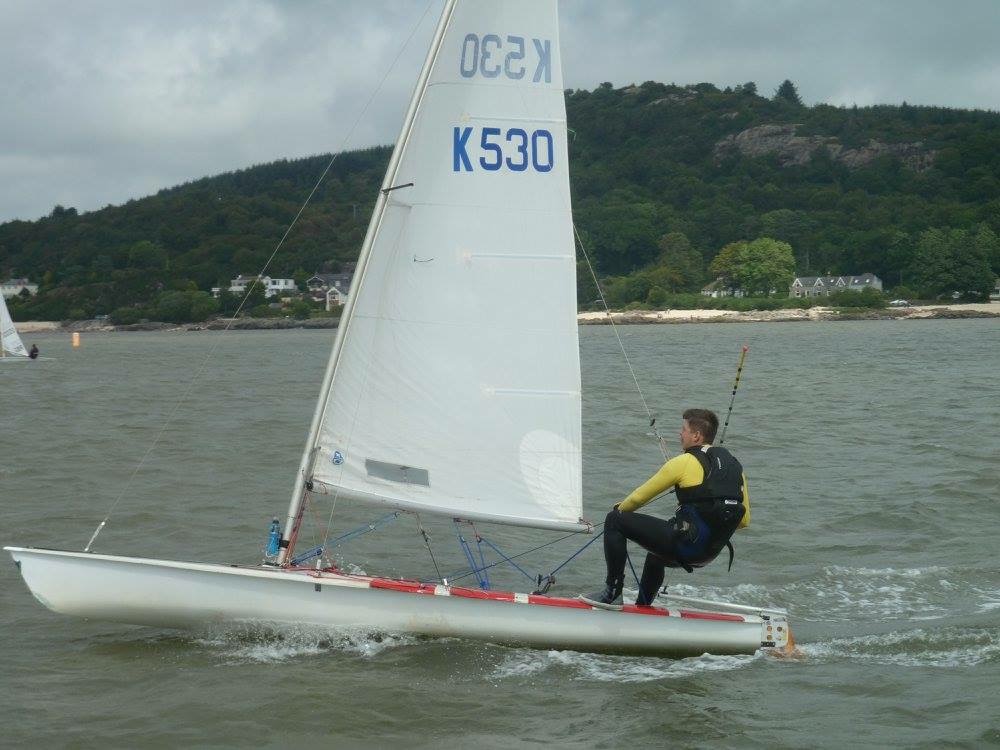 ---
Honda 2.3HP 4-Stroke Long Shaft Outboard
Purchased as a back-up engine July 2014 but never needed and run for <10 hours – as good as new. £540 ono.
Contact Julian Stanning 01556 630244
---
****Hartley Byte (CI small rig) for sale****
Ideal 'next' boat for progression from a Pico or Topper, or for adult mid-weight sailors.
Bought brand new April 2016, hardly been used.
Super self de-powering rig, Mylar fully battened sail, high boom, controls lines side mounted, self draining cockpit.
2 part hybrid mast, stiff carbon lower/ flexi glass upper, easy to right.
Lightweight, GRP foam sandwich construction.
The bottom section of the mast can be upgraded to take the CII bigger sail later!
Comes with launching trolley.
£3500. Lying at Otley Sailing Club, Yorkshire, but can be brought to Kippford.
Please contact me if you are interested (07811 945436 or email: This email address is being protected from spambots. You need JavaScript enabled to view it.).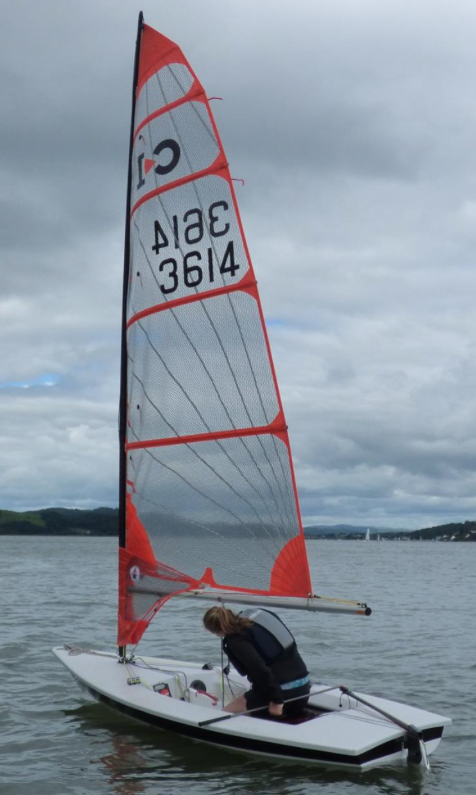 ---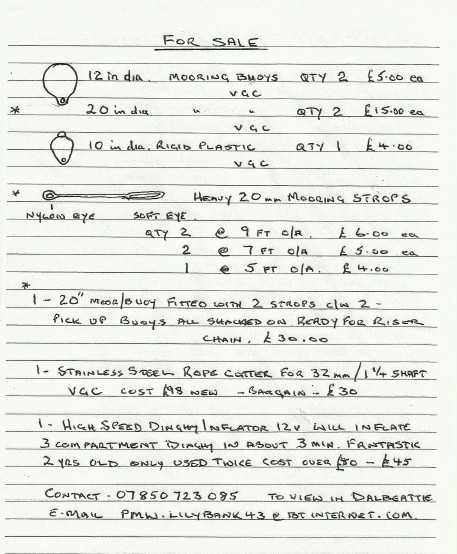 Email Peter at This email address is being protected from spambots. You need JavaScript enabled to view it.
---
For Sale - Hunter Horizon 21 - Sail Number 38 - Offers invited.
New circa 1993. Needs a new roller-reefing self-tacking foresail.
Includes a road/launching trailer in need of maintenance but still capable of transporting the boat for a road journey (illegally because the weight requires the trailer to be braked) but tyres and wheel bearings are excellent (nearly new).
Winner of the cruiser handicap racing in Kippford Week on two occasions.
Offers invited. Contact Dr. John Wilson at This email address is being protected from spambots. You need JavaScript enabled to view it.
---
Members' Sales and Wants
Various chandlery items.
For Sale - Hunter Horizon 21 - Sail Number 38 - Offers invited.
Yacht Tender £100
Mirror £250
For Sale - see more details
---
Enterprise with two sets of sail and other equipment.
In fair condition. Last sailed 5 years ago at Kippford.
Free to a good home. Needs to be collected.
Stored in Colvend where it can be inspected without obligation.
Please contact 01556 630 255 for further details.
---
If you want to advertise - contact This email address is being protected from spambots. You need JavaScript enabled to view it. with details.